accessories, spare parts, mbzs-2a
MBZS-2A Accesories.
When you order the machines, we kindly suggest you to buy some spare parts for future use.
1. Rubber Roller (diameter: 70mm)
2. Steel Roller (diameter: 70mm)
3. Upper Corner Piece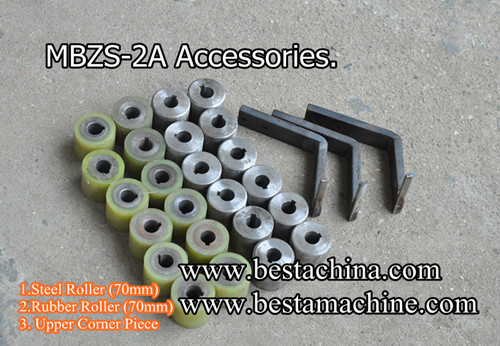 CHOOSE BESTA, CHOOSE SUCESS
1.Brand Strength –BESTA-famous brand in the world.
We are the most professional machine supplier who is specialized in the
bamboo and wood working machine.
More than 15 years experience,worldwide customers.
2.Overall Ability
Fluent English Communication ability and customer reception ability.
Familiar to various industries related to machineries and whole package plan for customers.
Professional in international trade, skillful in the operation of the shipping documents
Efficient and flexible transportation capacity, including sea,landand air transportation.
3.Expert Guidance
Offer professional proposal to our customers.
4.Golden Service
Quick response within 8 hours.
Email: info..........com
Mob: 0086186 5710 6860(whatapp)-AngelZhou